About The Department: 
The Department was established in 2001-02 with Chemistry , Zoology  and Biotechnology(CZBt) combination and later in the year 2005-06 Biochemistry , Microbiology and Biotechnology (BMBt )combination was introduced. The Department is well equipped with infrastructural facilities for teaching. The laboratory is well equipped with all the necessary basic facilities for the undergraduate teaching. After obtaining autonomy, the department is revising the curriculum periodically to facilitate students to pursue higher education, acquire skills for employability and become entrepreneurs.The students are taken to special visits to reputed industries and institutes to expose them to the latest developments.
Programme offered:
Click Here For Detailed Syllabus
Programme objectives :    
Teach, train and graduate qualified skilled personalities in many disciplines of Biotechnology.
Develop, implement and evaluate the curriculum of biotechnology program with a strong commitment to be aligned and comply with the national and international standards of the quality assurance.
Promote a supportive learning environment for life through implementing continuous learning programs.
Apply the general principles and standards of technology transfer and ensure adequate training of our personnel in modern biotechnology.
programme outcomes : 
Graduates will be able to design, perform experiments, analyze and interpret data for investigating complex problems in biotechnology and related fields.
Graduates will be able to decide and apply appropriate tools and techniques in biotechnological manipulation.
Graduates will be able to justify social, health, safety and legal issues and understand his responsibilities in biotechnological practices.
Graduates will be able to undertake any responsibility as an individual and as a team in a multidisciplinary environment.
Curriculum :
The present scheme and syllabus are under Choice Based Credit System (CBCS).
 

Year

Sem

Course

Title of the Paper

Credits

 Maximum Marks

Exam Duration

L:T:P

Th

Pr

IA-1

IA-2

Th

Pr

Th

Pr

Th

Pr

I BSc

        I

DSC

CELL BIOLOGY & GENETICS

4:0:2

70

   70

10

05

10

05

3H

3H

II

DSC

BIOMOLECULES & BIO-ANALYTICAL TECHNIQUES

4:0:2

70

70

10

05

10

05

3H

3H

II BSc

III

DSC

MOLECULAR BIOLOGY &GENETIC ENGINEERING

4:0:2

70

70

10

05

10

05

3H

3H

IV

DSC

PLANT CELL & ANIMAL TISSUE CULTURE

4:0:2

70

70

10

05

 

 

05

 

3H

 

3H

III BSc

V

DSE

No. Of course 1

    DSE 1IMMUNOLOGY & MEDICAL BIOTECHNOLOGY

DSE 2-MICROBIALTECHNOLOGY & AGRICULTURAL BIOTECHNOLOGY

 

4:0:1

 

70

 

70

 

10

05

 

10

05

3H

3H

VI

DSE

No. Of course 1DSE 1-ENVIRONMENTAL BIOTECHNOLOGY &BIOSTATISTICS

DSE 2-BIOINFORMATICS AND BIOPROCESS TECHNOLOGY

4:0:1

70

70

 

10

05

10

05

3H

3H

 
 

SEC

No. Of course 1

SEC 1 -MICROBIAL TECHNIQUES OrSEC 2 -ENZYMOLOGY

2:0:0

50

-

10

05

10

05

2H

-
Laboratory Facilities
Well equipped laboratory with all the equipment in the latest available models and version to give hands on training to students in Biotechnology and enable them to compete at all levels.
Facilities to conduct Plant Tissue Culture experiments.
Access to centralized laboratory equipped with ELISA reader, Geldock, PCR machine, Fluroscent Microscope.
Contact:
Mrs.Uma S
ASSISTANT PROFESSOR & HoD
PHONE NO : 9738467132
Email : umaraj77@yahoo.co.in
Faculty
M.Sc. | Assistant Professor and Head
VIEW PROFILE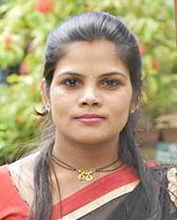 M.Sc. | Assistant Professor
VIEW PROFILE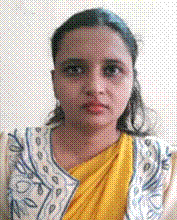 M.Sc., B.Ed | Assistant Professor
VIEW PROFILE