Department Overview
 
 Postgraduate Department of English established in 2012 with the vision of providing an impetus to the study of English Language and Literature. The department has a mission improving communicative skills of students to face global challenges, and is committed to promote an intellectual climate of critical and creative ideation. It aims to inculcate among its students a critical reading of the world literature to mould them into responsible and socially sensitive citizens. It strives to inculcate research skills among students for independent thinking, and prepares students to pursue careers in education, research, business, government, and publishing. It encourages creativity, which is crucial to English studies, through readings of professional writers; and encourages students own creative and critical writings. The department conducts Literary Club Activities fortnightly, to provide an opportunity to the students to discuss and share their views on recent literary works and brings out a Wall Magazine, The Passion Never Ends. In addition to core English Literature and American Literature components, it encourages studies in New Literatures in English, 20th Century Women's Writings, Feminism, Comparative and Cultural Studies. Students Research Project is a part of curriculum. The syllabus of the Masters in English Programme offered by the department follows revisions periodically providing an opportunity to students to get updated knowledge. 
 The Department ensures the rigour of academic programme and the faculty strives ceaselessly, to inculcate creativity, innovation and creates stimulating environment for the academic growth of its students. We help facilitate their holistic development by building emotional, academic, social, professional and global competencies. We also aspire to create a nuanced understanding of canonical and non-canonical literary and cultural texts as well as their social milieu for an engaged and enduring understanding of life. Talks, paper presentations in student seminars are organised regularly to enhance the communicative skills of the students. The University of Mysore has recognised the Department as Research Centre.
 
Programme Offered:    Masters in English
Click here for Detailed Syllabus
 
Programme Objectives
Providing the students advanced knowledge in terms of understanding literary history as well as significant texts and movements.  Familiarizing them to representative texts of the period to promote new perspectives on the representative writers.  Developing aesthetic sensibility among students to understand human nature depicted in the literary works of British, American and Indian Literatures.  Inspiring the students to nurture and develop spiritual affinities with Nature, which instil in them a sense of compassionate aesthetics that promotes social conscience.  Developing the love for Nature and aesthetic sense to relish the beauty of abundant nature around us.   Promoting understanding of the cultural conflict faced by immigrants in diasporas and a sensibility to understand various cultures, breaking the barriers between different countries.  Creating interest in students to read and understand the basics of literary/critical theories.  Bringing awareness on the importance of criticism as a part of literature and its importance in the interpretation of the literary works.  Promoting creative thinking skills that enable the learner to demonstrate independence of thought in writing dissertation under major project work, to enrich academic writing skills among students.  Ensuring students have the necessary skills of communication and research as once they graduate out of this programme.
Curriculum:    CBCS and CAGP (Minimum credits 76)
Course Type
Credits to be earned
Total Credits
I Semester
II Semester
III Semester
IV Semester
Hard core Course
16
16
12
08 + Project Work (04)
56
Soft Core Course
04
04
04
04
16
Open Elective Course
-
-
04
-
04
Semester Total
20
20
20
16
76
Placements Placements (last five years) -70 – 80 %   
Research Activities  
The Department is actively involved in research on Postcolonial Literatures, African Literature, Indian Literature, Diasporic Writings, Feminism, 20th Century Women's Writings, ELT and the faculty has published research papers in National and International Journals, presented papers in seminars and conferences. The Department has organised Seminars, received funds from the University Grants Commission, SWRO, Bengaluru, for Minor Research Projects, and submitted proposals to UGC for financial assistance to organize National Seminar and National Conference in the upcoming academic year.
 
Contact The Head
DR.SYED HAJIRA BEGUM
Postgraduate Department in English,
JSS College of Arts Commerce and Science (Autonomous), B N Road Mysuru- 570 025
Mobile:  +91- 9535803738
Off: 0821 – 254 8379
Email: syed_hajira@yahoo.co.in
Faculty PG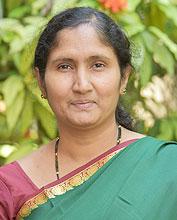 MA, PhD | ASSISTANT PROFESSOR & CHAIRPERSON
MA, B.Ed., PhD, Diploma in Russian Language | Assistant Professor
MA, B.Ed | Assistant Professor